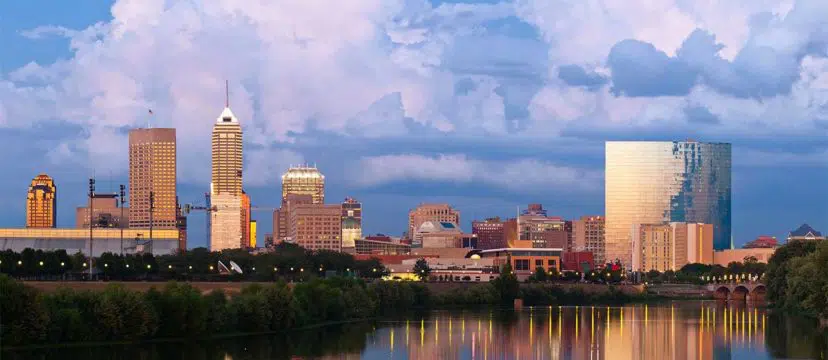 Indiana has a wide range of addiction treatment environments, from state-funded rehab centers to luxury facilities.
Some offer holistic treatment programs with cutting-edge therapies, while others emphasize traditional, evidence-based treatment.
List Of Indiana Drug Rehab Centers
This list of the 10 best drug rehab centers in Indiana was compiled from positive reviews of amenities, facilities, staff, and treatment outcomes.
*The facilities on this page have been listed in alphabetical order
1. Amethyst House, Bloomington, IN
Named after the stone that was said to prevent people from becoming intoxicated, the Amethyst House provides transitional homes for men as well as a separate facility for women with children.
Amethyst House is a not-for-profit organization and offers a full continuum of care through its outpatient treatment program.
Location and contact info:
645 N Walnut St
Bloomington, IN 47404
(812) 336-3570
2. Fairbanks, Indianapolis, IN
Fairbanks is a nonprofit treatment center men, women, and adolescents who struggle with addiction.
At Fairbanks, they understand that there are many elements that contribute to addiction including emotional, psychological, developmental, physical, family, and social factors.
These factors are all assessed and treated through a holistic treatment program.
Location and contact info:
8102 Clearvista Parkway
Indianapolis, IN 46256
3. Hickory House, Greenfield, IN
Hickory House is a luxury treatment center that provides holistic care for addiction.
Their evidence-based treatment programs include:
cognitive behavioral therapy (CBT)
dialectical behavior therapy (DBT)
yoga
nutrition education
fitness
The goal of this program is to improve brain functioning that has been impaired by addiction and help individuals live healthier lives in recovery.
Location and info:
5486 US-40
Greenfield, IN 46140
(317) 434-5375
4. Regional Mental Health, Merrillville, IN
Regional Mental Health offers a residential detox program that may be followed by inpatient or outpatient addiction treatment.
Inpatient treatment takes place in a structured environment that incorporates:
individual and group therapy
self-help groups
substance abuse education
Outpatient treatment provides similar therapies and the level of care varies depending on individual needs.
Location and contact info:
1441 E 84th Pl
Merrillville, IN 46410
(219) 769-4005
5. Shepherd's House, Fort Wayne, IN
Shepherd's House is a long-term residential addiction treatment facility for men 18 years and older.
This facility provides Christian-based services that incorporate the 12-Step Program in AA and CA recovery meetings.
Shepherd's House is on a public transportation line, is close to downtown, and provides tutoring to their clients.
Location and contact info:
519 Tennessee Ave
Fort Wayne, IN 46805
(260) 424-2500
6. Stepping Stone, Evansville, IN
Run by Southwestern Behavioral Healthcare, Stepping Stone provides a short-term addiction treatment program that typically lasts 21 to 28 days.
Treatment plans are individualized based on a medical assessment at the onset of treatment and include:
substance abuse education
individual and group therapy
family involvement programs
12-step meetings
Location and contact info:
4001 John St
Evansville, IN 47714
(812) 473-3104
7. Tara Treatment Center, Franklin, IN
Situated on 13 acres just south of Indianapolis, Tara Treatment Center offers help to those seeking recovery from drug and alcohol abuse.
Treatment at this facility incorporates the concepts of the 12-step programs, evidence-based therapy, and psychoeducational components.
Services range from outpatient therapy to full detoxification depending on patient need.
Location and contact info:
6231 US-31
Franklin, IN 46131
(800) 397-9978
8. The Thirteen Step House Inc, Fort Wayne, IN
Since 1968, The Thirteen Step House provides four recovery houses for men seeking freedom from addiction.
Those living in the houses are taught to work the 12 Step Program principles and work toward reintegration into society as productive and law-abiding spouses, fathers and employees.
The Thirteen Step House Inc is a not for profit organization.
Location and contact info:
1317 W Washington Blvd
Fort Wayne, IN 46802
(260) 424-2341
9. Valle Vista, Greenwood, IN
Valle Vista Health System offers residential substance abuse treatment to girls ages 12 to 18.
Run by a board-certified child and adult psychiatrist, this facility also provides dual diagnosis treatment.
Therapies in this adolescent girls' program may include:
recreation
art
activities
counseling
addiction education
Valle Vista also has inpatient, outpatient, and partial hospitalization programs for adults.
Location and contact info:
898 E Main St
Greenwood, IN 46143
(800) 447-1348
10. YWCA Women's Journey, South Bend, IN
The Young Women's Christian Association (YWCA) provides residential treatment for women suffering from addiction.
This program may last up to 60 days and includes individual and group counseling as well as childcare services.
The YWCA also connects women with a local detox program and provides aftercare, such as transitional housing and support groups.
Location and contact info:
1102 Fellows St
South Bend, IN 46601
(574) 233-9491
Find An Indiana Drug Rehab Center Near You
If you are looking for addiction treatment, we can help. Our addiction treatment specialists are available 24/7 to assist in finding treatment for you or a loved one. Call today to learn more.