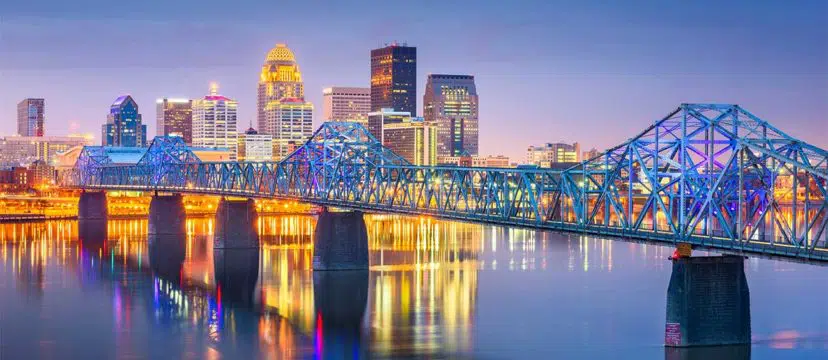 Many drug rehab centers in Kentucky put a special emphasis on gender-specific treatment and individualized care.
Some of these facilities help mothers with childcare complications, men who need vocational training, and professionals with crowded schedules.
List Of The Best Rehab Centers In Kentucky
These 10 best rehab centers in Kentucky provide effective addiction treatment for individuals in all walks of life.
*The facilities on this page have been listed in alphabetical order
1. Beacon House, Louisville, KY
Beacon House is a halfway home for men looking to overcome drug and alcohol addiction.
Before being accepted into the home, men first have to go through an interview process.
Once accepted, men will participate in a 12-step program, work with a sponsor, and participate in a 30-day treatment program.
Location and contact info:
963 S 2nd St
Louisville, KY 40203
(502) 581-0765
2. The Centerstone Addiction Recovery Center, Louisville, KY
The Centerstone Addiction Recovery Center specializes in recovery-0riented medication-assisted treatment (MAT).
The inpatient program at Centerstone incorporates MAT with:
counseling
behavioral therapy
peer support
community services
This rehab center keeps families involved by providing services to help them deal with their loved one's addiction.
Location and contact info:
601 S Preston St
Louisville, KY 40202
1 (877) HOPE-123
3. Chrysalis House, Lexington, KY
As a treatment home for women, Chrysalis House helps women and their children work toward recovery from addiction.
Nearly one-third of women entering this treatment program are pregnant and deliver babies while in the program.
While in treatment, women participate in:
mental health treatment
substance abuse treatment
domestic violence counseling
GED tutoring
computer training
vocational training
access to job placement assistance
housing assistance
medical care
childcare
Location and contact info:
1589 Hill Rise Dr
Lexington, KY 40504
(859) 977-2501
4. Healing Place, Louisville, KY
The Healing Place is an addiction rehab center with separate treatment programs for men and women.
The recovery program at this facility is based on the social model and is five times more successful than the national average for recovery facilities, with 75% of their alumni remaining sober after one year.
Location and contact info:
Men's Campus:
1020 W Market St
Louisville, KY 40202
(502) 585-4848
Women's Campus:
1503 S 15th St
Louisville, KY 40210
(502) 585-4848
5. Isaiah House Recovery Center, Willisburg, KY
Isaiah House offers outpatient and inpatient addiction treatment for men.
Residential treatment at this facility includes:
counseling
family education
job skills training
exercise
This rehab center also provides GED classes and college courses on-site while other residents may enter employment with Isaiah 58 or Clean Cut Landscaping, two businesses that partner with Isaiah House.
Location and contact info:
2084 Main St
Willisburg, KY 40078
(859) 375-9200
6. Karen's Place, Louisa, KY
Located on 30 acres of beautiful wooded land, Karen's Place is a residential treatment center for women suffering from substance abuse.
This program is Christian-based, though clients do not have to be Christian in order to receive treatment.
Staff includes a physician, Certified Alcohol & Drug Counselors (CADCS), pastoral counselors, and trained recovery mentors.
Location and contact info:
125 N Main Cross St
Louisa, KY 41230
(606) 244-0345
7. Landmark Recovery, Louisville, KY
Landmark Recovery offers inpatient treatment as a phase of addiction recovery.
The residential program uses group therapy and processing groups along with extracurricular activities during recovery.
While in treatment, individuals work with their primary therapist several times per week and a psychiatrist at least once per week.
Residents also participate in neurofeedback, which aims to "rewire" their brains and reduce the chance of relapse after treatment.
Location and contact info:
4112 Fern Valley Rd
Suite A
Louisville, KY 40219
(502) 221-3932
8. Liberty Ranch Recovery Center, Kings Mountain, KY
The Liberty Ranch Recovery Center is a luxury inpatient treatment facility located on 70 acres of farmland.
Individuals living at the residential treatment center participate in recreational activities like:
hiking
fishing
swimming
basketball
This program is based on the 12 steps to recovery and helps individuals build self-respect, integrity, accountability, and other traits needed to maintain sobriety.
Location and contact info:
2735 KY-501
Kings Mountain, KY 40442
(888) 387-1531
9. The Morton Center, Louisville, KY
At The Morton Center, professional staff seeks to treat the whole person and not just the addiction.
Widely known for treating physicians and licensed professionals struggling with chemical dependency including nurses, pharmacists, dentists, physical therapists, and attorneys, they also provide services for adults, children, adolescents, and family members.
Location and contact info:
1028 Barret Ave
Louisville, KY 40204
(502) 451-1221
10. Stepworks Recovery Centers, Elizabethtown, KY
The 30-day residential treatment program at Stepworks Recovery allows individuals struggling with substance abuse to support each other in recovery.
The belief is that it is helpful to be around others who understand addiction and are working toward the common goal of recovery.
Treatment at this facility includes:
group therapy
individual therapy
outdoor recreation
Location and contact info:
1207 Woodland Dr
Elizabethtown, KY 42701
(800) 545-9031
Find Drug And Alcohol Treatment In Kentucky Today
Whether you are looking for treatment for yourself or a loved one, we can help. Our addiction treatment specialists are available 24/7 to answer any questions you may have and help you find the right treatment program. Call today to learn more.