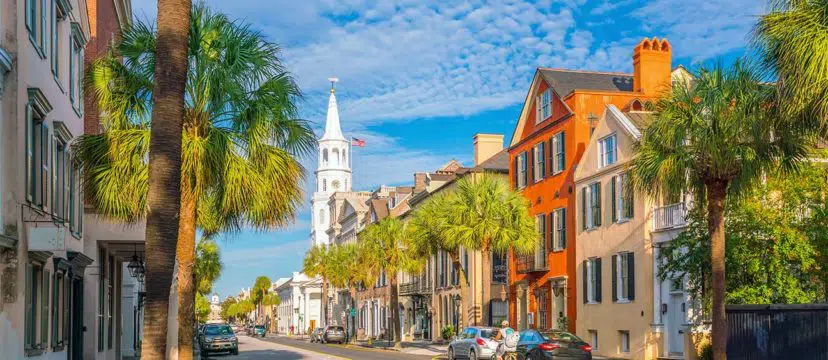 South Carolina has many addiction treatment facilities that provide specialized treatment, from women-only centers to Christian-based programs.
List Of South Carolina Drug Rehab Centers
The 9 best drug rehab centers on this list have helped numerous individuals in South Carolina to overcome addiction.
These facilities were chosen because of their exceptional care, a variety of services, and positive treatment outcomes.
*The facilities on this page have been listed in alphabetical order
1. Any Length Recovery Community, Sumter, SC
Any Length Recovery Community offers drug and alcohol addiction treatment services.
Though the average length of stay is 6 months, individuals can stay as long as they would like.
All staff members are in recovery, subscribing to "kitchen table recovery," where one person helps another.
Location and contact info:
4742 Broad St
Sumter, SC 29154
(803) 494-5180
2. Carolinas Hospital System: Bruce Hall, Florence, SC
Bruce Hall is a residential addiction treatment facility that comes with customized treatment plans, private rooms, and a highly trained staff.
The psychobiosocial treatment model includes:
individual, group, and family therapy
substance abuse education
The Carolinas Hospital System also offers medically supervised detoxification for those who need it.
Location and contact info:
527 S Church St
Florence, SC 29506
(302) 725-4535
3. The Chrysalis Center, Florence, SC
Run by Circle Park Behavioral Health Services, The Chrysalis Center provides residential addiction treatment for women.
This facility is unique in that it allows children age 10 and under to live with their mothers in treatment and receive their own therapy.
This takes away a barrier that prevents many women from seeking help for substance abuse.
Circle Park also offers outpatient counseling and medication-assisted treatment (MAT).
Location and contact info:
1430 S Cashua Dr
Florence, SC 29501
(843) 673-0660
4. The Dawn Center, Orangeburg, SC
The Dawn Center is an outpatient addiction treatment facility for adults that focuses on meeting individual needs.
Services include:
individual, group, and family counseling
relapse prevention
life skills training
Location and contact info:
910 Cook Rd
Orangeburg, SC 29118
(803) 536-4900
5. Faith Home, Inc., Greenwood and Abbeville, SC
Faith Home, Inc. is a free drug and alcohol rehab program for adults run on donations and profits from its various thrift shops.
This Christian-based rehab center provides gender-specific residential treatment, with men's facilities in Greenwood and Cowpens and a women's facility in Abbeville.
While in treatment, patients participate in:
work therapy
recreational activities
community volunteering
Location and contact info:
309 Washington St
Abbeville, SC 29620
(864) 207-7893
6. Grace Home, Boone, SC
Part of Hebron Colony, a Christian addiction recovery ministry, Grace Home is a 16-bed women's facility for women committed to recovering from drug and alcohol addiction.
Grace Home offers a 10-week residential program with no charge other than a small, refundable deposit for emergency purposes.
Location and contact info:
356 Old Turnpike Rd
Boone, NC 28607
(828) 963-4842
7. Keystone Substance Abuse Services, Rock Hill, SC
Keystone Substance Abuse Services provides inpatient and outpatient addiction treatment with priority being given to pregnant women and IV drug users.
Each person in treatment has an individualized recovery plan and a treatment team working to provide the best care for them.
Keystone also offers inpatient and outpatient medication-assisted treatment (MAT), with financial assistance for low-income individuals who need help.
Location and contact info:
199 S Herlong Ave
Rock Hill, SC 29732
(803) 324-1800
8. Morris Village Alcohol and Drug Treatment Center, Columbia, SC
The Morris Village Alcohol and Drug Treatment Center is run by the South Carolina Department of Mental Health and provides a therapeutic community.
Individualized treatment plans at Morris Village generally include:
addiction education
group therapy
community involvement
12-step programming
Location and contact info:
610 Faison Dr
Columbia, SC 29203
(803) 935-7100
9. Women's Recovery Center, Conway, SC
The Women's Recovery Center provides specific care to mothers who may lose their children due to substance abuse or addiction.
This facility not only treats addiction but also helps with parenting skills.
The residential program is heavily based on peer support and family involvement.
Location and contact info:
2404 Wise Rd
Conway, SC 29526
(843) 365-8884
Find Addiction Treatment In South Carolina Today
Whether you are looking for addiction treatment for yourself or a loved one, we are here to help. Our addiction treatment specialists are available to answer all your questions and help you start the recovery process. Call today to learn more.