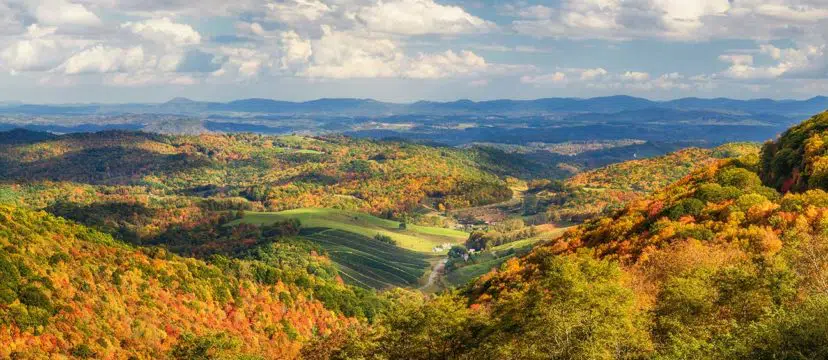 Many of the 10 best drug rehab centers in Virginia treat other mental illnesses as well as addiction. They also incorporate components like nutrition and recreation to help individuals make healthy choices in all areas of their life.
List Of Virginia Rehab Centers
These excellent addiction treatment facilities were chosen based on personal experience, environment, treatment options, and recovery success.
*The facilities on this page have been listed in alphabetical order
1. Bethany Hall, Roanoke, VA
Bethany Hall is a private and non-profit agency that provides long-term residential treatment for women struggling with addiction.
Their approach to healing and lasting sobriety is holistic. Long-term residential programs include treatment for pregnant women, women with children, and programs lasting 30 days or nine months.
Location and contact info:
1109 Franklin Rd SW
Roanoke, VA 24016
(540) 343-4261
2. Bridging The Gaps, Winchester, VA
Addiction treatment at Bridging the Gaps may take place in partial hospitalization or an intensive outpatient program (IOP).
This rehab center also offers residential treatment, which occurs in several phases. Treatment methods are based on the 12-step principles.
Location and contact info:
31 S Braddock St
Winchester, VA 22601
(540) 535-1111
3. Centra Pathways Recovery Lodge, Lynchburg, VA
Pathways Recovery Lodge is a small rehab center with private rooms, which allows for more personalized treatment.
This facility follows the biopsychosocial model and provides comprehensive care for the many aspects of addiction.
Treatment methods include:
group, individual, and family therapy
behavioral therapy
art
exercise
12-step work
motivational interviewing
Centra also offers medical detox and an intensive outpatient program.
Location and contact info:
3300 Rivermont Ave
Lynchburg, VA 24503
(434) 200-4455
4. The Farley Center, Williamsburg, VA
Drug and alcohol rehabilitation at The Farley Center is based on the 12-steps to recovery.
Individuals in primary residential treatment work through emotions and issues that contribute to addiction, learn coping skills, and build relationships with therapists, peers, and their family.
The Farley Center also offers intensive outpatient treatment and extended care for those who experience chronic relapse, have a dual diagnosis, or need help with long-term pain management.
Location and contact info:
5477 Mooretown Rd
Williamsburg, VA 23188
(757) 243-1426
5. Harrison House of Virginia, Annandale, VA
Harrison House is staffed with board-certified doctors and other highly trained individuals who specialize in treating addiction.
This drug and alcohol rehab center offers both intensive outpatient treatment (IOP) and partial hospitalization programs (PHP).
Individuals in the PHP may live in a sober living home while in treatment and participate in regular group therapy, 12-step meetings, and recreation.
Location and contact info:
5105Q Backlick Rd
Annandale, VA 22003
(844) 889-9433
6. Life Center of Galax, Galax, VA
Life Center of Galax provides individualized inpatient and outpatient addiction treatment with special residential tracks for Christian-based treatment and individuals who have received a DUI.
Residential treatment at Life Center of Galax includes:
gender-specific groups
reality therapy
family workshops
cognitive therapy
Individuals in this program also learn positive ways to have fun without substances through recreation and leisure.
Location and contact info:
112 Painter St
Galax, VA 24333
(276) 293-9642
7. Life Line Counseling Center, Fairfax, VA
This outpatient counseling center is for those who have addictions and mental illnesses.
Life Line Counseling Center takes into account research on brain chemistry, nutrition, and lifestyle approaches and uses this information to increase the likelihood of successful recoveries.
Location and contact info:
4400 University Dr
Fairfax, VA 22030
(703) 993-2380
8. Mount Regis Center, Salem, VA
Mount Regis Center provides inpatient drug and alcohol rehab programs for adults and young adults ages 18 to 25.
The young adult program lasts for 40 days and focuses on how emotions contribute to addiction.
This program includes therapies such as:
equine therapy
behavioral therapy
life skills
yoga
art therapy
nutrition
a ropes course
The adult program also addresses stress management, dealing with conflicts, grief, and codependency, among other issues.
Mount Regis also offers a partial hospitalization program (PHP) and intensive outpatient program (IOP).
Location and contact info:
125 Knotbreak Rd
Salem, VA 24153
(540) 404-1016
9. Prince William Family Counseling, Manassas, VA
Prince William Family Counseling is an outpatient treatment center that provides counseling services to children, adolescents, adults, couples, and families.
They treat a variety of psychological and mental illnesses including substance abuse. They are also partnered up with special programs like Virginia Home Based Counseling, P.C., which is a program that provides intensive in-home services to at-risk youth.
Location and contact info:
8140 Ashton Ave
Suite 200
Manassas, VA 20109
(703) 330-9933
10. Sagebrush Treatment Center, McLean, VA
Sagebrush offers inpatient and outpatient addiction treatment, sober living, and family programs.
It has three residential treatment locations: one for men, one for women, and a co-ed facility. Treatment programs at Sagebrush are holistic and individualized.
All aspects of a person's health are important, and healing is supported through treatment methods like:
Qigong
guided imagery
experiential therapies
mindfulness therapy
fitness
counseling
Location and contact info:
7921 Jones Branch Dr
Unit 400
McLean, VA 22102
(703) 444-9141
Find Virginia Addiction Treatment Near You
Whether you are looking for treatment for yourself or a loved one, we can help. Our treatment specialists are standing by to answer any questions you may have to help you pick the program that is best for you. Call today to learn more.