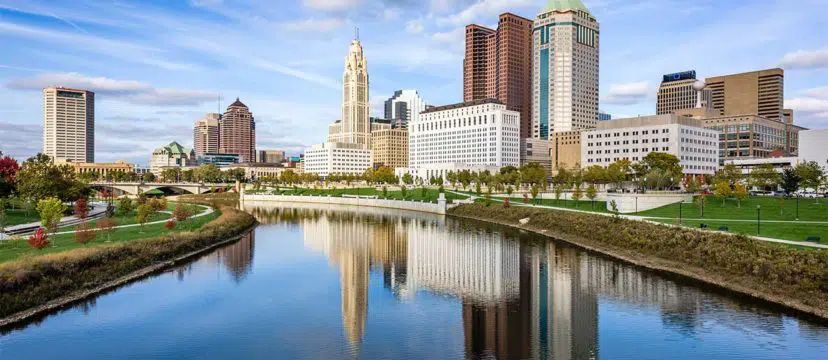 Many of the 10 best drug rehab centers in Ohio provide treatment for co-occurring disorders and offer various levels of care.
List Of Ohio Drug Rehab Centers
These top facilities were chosen based on accreditation, positive experiences, successful outcomes, and the overall environment.
*The facilities on this page have been listed in alphabetical order
1. Arrow Passage Recovery, Massillon, OH
Residential addiction treatment at Arrow Passage Recovery may last from 28 days to six months depending on individual need.
Before beginning treatment, individuals undergo medically monitored detoxification and sit with an addiction counselor to come up with an individualized recovery plan.
This facility also offers 12-step programs but does not require that all individuals follow them.
Location and contact info:
721 Lincoln Way E
Massillon, OH 44646
(844) 347-0543
2. Center for Addiction Treatment, Cincinnati, OH
Center for Addiction Treatment offers a short-term residential program that lasts 28 days.
Treatment in this program includes:
substance abuse education
individual counseling
group therapy
art therapy
recreation
12-step meetings
This rehab center also offers 24-hour nursing care during medical detoxification and outpatient counseling.
Location and contact info:
830 Ezzard Charles Dr
Cincinnati, OH 45214
(513) 381-6672
3. Columbus Springs Dublin, Dublin, OH
Columbus Springs Dublin is an inpatient and outpatient mental health and addiction treatment facility that specializes in treating co-occurring disorders.
Drug and alcohol rehab programs at this facility may involve yoga, art, music therapy, recreation, and pet therapy.
Individuals in these programs may also participate in mindfulness training and medication management.
Location and contact info:
7625 Hospital Dr
Dublin, OH 43016
(614) 819-3463
4. Glenbeigh, Niles, OH
An affiliate of Cleveland Clinic, Glenbeigh is an alcohol and drug addiction treatment center staffed by licensed independent social workers, physicians, nurses, psychiatrists, chemical dependency counselors and clergy.
Treatment programs and services at this facility reflect their holistic approach to addiction care and seek to address the body, mind, and spirit.
Location and contact info:
29 North Rd
Niles, OH 44446
(330) 652-6770
5. IBH Addiction Recovery Center, Akron, OH
IBH Addiction Recovery Center is focused on offering residential treatment to those struggling with drug and alcohol addiction.
Their 60-90 day residential treatment program gives patients more than 40 hours of services each week and includes treatments like individual and group counseling, 12 step program guidance and meetings, and more.
Location and contact info:
3445 S Main St
Akron, OH 44319
(330) 644-4095
6. The Ridge Addiction Recovery Center, Milford, OH
Residential treatment at The Ridge Addiction Recovery Center includes reading, writing, meditation, exercise, and individual counseling.
Physical fitness and positive nutrition are emphasized in this holistic program.
The Ridge also has a sister company in Milford that provides outpatient services as well.
Location and contact info:
25 Whitney Dr
Suite 120
Milford, OH 45150
(513) 613-4026
7. Shepherd Hill, Newark, OH
Shepherd Hill offers residential treatment, extended care, intensive outpatient, and aftercare services to individuals struggling with addiction and co-occurring mental disorders.
This facility also provides discreet addiction treatment for healthcare professionals, with a specialized aftercare group.
Location and contact info:
200 Messimer Dr
Newark, OH 43055
(800) 223-6410
8. Vertava Health Of Ohio, Sherrodsville, OH
Vertava Health Of Ohio is situated in the rolling hills of eastern Ohio and provides a serene healing environment with views of the beautiful bluffs and rock waterfall.
This rehab center offers multiple levels of addiction treatment including:
inpatient treatment
partial hospitalization programs
intensive outpatient programs
Treatment at Vertave Health is available for men and women and includes a new program for pregnant women.
Programs are designed according to individual need and may integrate a number of therapies and treatments including:
cognitive behavioral therapy (CBT)
dialectical behavior therapy (DBT)
medically supervised detox
dual diagnosis treatment
experiential and adventure therapy
family therapy
Location and contact info:
2650 Lodge Rd SW
Sherrodsville, OH 44675
(740) 200-3800
9. The Woods at Parkside, Gahanna, OH
"Where recovery takes root," The Woods at Parkside is a drug and alcohol addiction treatment center situated on 11 acres of land that overlooks a golf course.
This facility includes:
private residential rooms
dining room
therapy rooms
library
several recreational rooms
Their treatment programs are comprehensive and include partial hospitalization, an intensive relapse program, and a professional program, among others.
Location and contact info:
349 Olde Ridenour Rd
Gahanna, OH 43230
(614) 810-7854
10. Zepf Center Central, Toledo, OH
Zepf Center provides medication-assisted treatment (MAT), outpatient treatment, recovery housing, residential detoxification, and inpatient care for those struggling with addiction.
This facility takes a holistic approach to its inpatient and outpatient programs and offers services like individual and group therapy.
Zepf Center also helps with:
vocational training
process addictions
youth mental health issues
Location and contact info:
905 Nebraska Ave
Toledo, OH 43607
(419) 841-7701
Find A Drug Rehab Center In Ohio Today
If you are looking for addiction treatment, we can help. Our addiction treatment specialists are available 24/7 to help you find the right treatment program for yourself or a loved one. Call today to learn more.