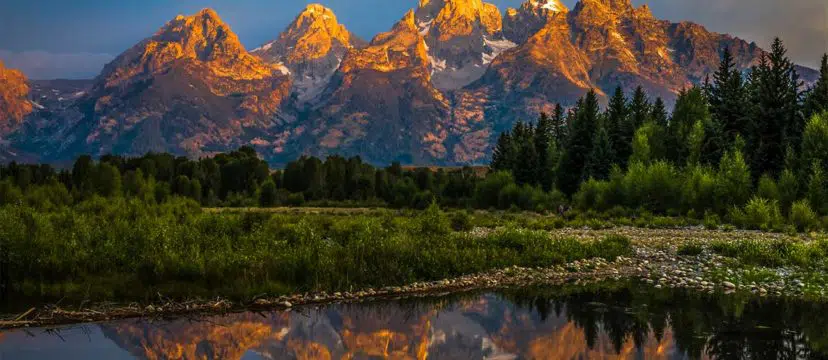 Many of the 8 best drug rehab centers in Wyoming are nestled among trees and provide opportunities for natural healing. Some follow the Alcoholics Anonymous model of 12 steps to recovery, while others rely more on evidence-based therapies. The best programs combine various treatment methods for comprehensive care.
List Of Wyoming Drug Rehab Centers
These facilities were chosen because they do just that and because they have produced successful treatment outcomes, comfortable environments, and overall positive experiences for Wyoming residents.
*The facilities on this page have been listed in alphabetical order
1. Cedar Mountain Center, Cody, WY
Also set near the beautiful Yellowstone National Park, Cedar Mountain Center is a hospital-affiliated chemical dependency center that aims to heal mind, body, and spirit.
The residential program includes:
nature therapy
recreation
special services for senior citizens
Location and contact info:
707 Sheridan Ave
Cody, WY 82414
(307) 578-2531
2. Central Wyoming Counseling Center, Casper, WY
Central Wyoming Counseling Center provides substance abuse residential treatment for adolescents, adults, pregnant women, and mothers.
This program offers daycare and education for children who come with their mothers for treatment, as well as parenting training for women.
Central Wyoming Counseling Center also offers treatment to individuals in the Natrona County Detention Center, an outpatient program, and medication-assisted treatment (MAT).
Location and contact info:
1430 Wilkins Cir
Casper, WY 82601
(307) 237-9583
3. Curran-Seeley Foundation, Jackson, WY
Curran-Seeley Foundation is a nonprofit organization that provides outpatient and intensive outpatient addiction treatment.
Outpatient services at this facility include:
substance abuse education
individual therapy
DUI class
counseling
treatment for co-occurring disorders
Location and contact info:
610 W Broadway
Jackson, WY 83001
(307) 733-3908
4. The Gathering Place, Sheridan, WY
This residential treatment center offers substance abuse treatment to women, including women with dependent children.
Women in treatment receive 30 hours per week of therapy and structured activities centered on recovery. This program also helps prepare women to receive their GEDs.
Location and contact info:
1876 S Sheridan Ave
Sheridan, WY 82801
(307) 672-0475
5. Pathfinder, Cheyenne, WY
Pathfinder is a CARF-accredited rehab center run by the Cheyenne Community Drug Abuse Treatment Council, Inc. It provides intensive outpatient (IOPs) and outpatient treatment programs for addiction.
These programs include:
individual therapy
group counseling
12-step meetings
Pathfinder also offers intervention services, such as a DUI safety course, and a specialized program for women that give priority to pregnant injection drug users.
Location and contact info:
620 West 19th Street
Cheyenne, WY 82001
(307) 635-0256
6. Peak Wellness Center, Laramie, WY
Peak Wellness Center has separate residential addiction treatment centers for men, women. There is also a specialized addiction treatment program for veterans.
These inpatient rehab programs take place in a structured environment that involves:
substance abuse education
peer support groups
socialization
life skills training
group counseling
Peak Wellness Center also offers outpatient addiction treatment to adults and youth that focuses on healthy lifestyle development and deals with underlying issues.
Location and contact info:
1263 N 15th St
Laramie, WY 82072
(307) 745-8915
7. Trinity Teen Solutions, Inc, Powell, WY
Trinity Teen Solutions is a residential treatment center for girls. Its Christian-centered philosophy works with mental health and behavioral services to restore and build success in academics, life, and social skills.
Among other kinds of therapy, they incorporate animal and wilderness therapy into their programs.
Location and contact info:
112 Safe Haven Road
Powell, WY 82435
(307) 202-8400
8. Vocational Rehabilitation, Cheyenne, WY
The Vocational Rehabilitation center in Cheyenne seeks to help those struggling with mental or physical difficulties, including substance abuse, find and keep successful employment.
Location and contact info:
5221 Yellowstone Rd
Cheyenne, WY 82002
(307) 777-7364
Find A Wyoming Rehab Center Near You
If you or a loved one are searching for addiction treatment in Wyoming, we can help. Our dedicated addiction treatment specialists are standing by to help you find the rehab center that is right for you. Call today to learn more.