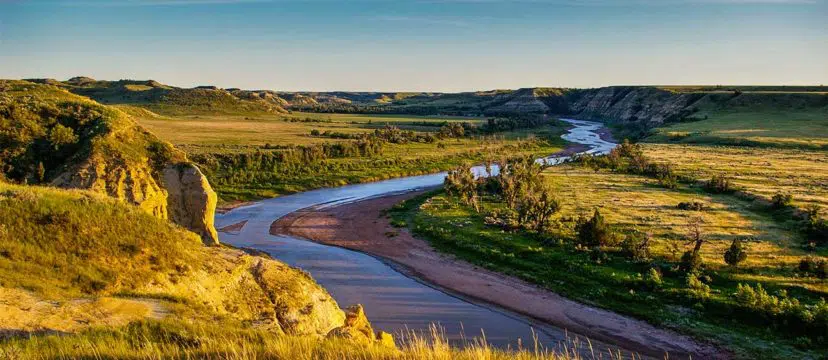 Many of the 9 best drug rehab centers in North Dakota offer addiction treatment as a continuum of care.
These facilities use a variety of evidence-based therapies along with some alternative methods.
List Of North Dakota Drug Rehab Centers
The drug rehab centers on this list were chosen based on positive reviews, accreditation, a range of services, and overall environment.
*The facilities on this page have been listed in alphabetical order
1. Centre, Inc., Fargo, ND
Centre stands for Community Extended Nuclear Transitional Residence for Ex-offenders.
This residential program provides:
substance abuse treatment
drug testing
employment training
addiction counseling
Residents may go to work while living at the facility, but their activities are closely monitored and treatment is structured to promote recovery.
Location and contact info:
123 15th St N
Fargo, ND 58102
(701) 237-9340
2. Dakota Boys and Girls Ranch, Fargo, ND
Dakota Boys and Girls Ranch offers psychiatric residential treatment to youth ages 10 to 18 struggling with a wide variety of behavioral health issues and including addiction.
This Christian-based program provides:
medical services
substance abuse education
recreation
addiction counseling
equine therapy
Location and contact info:
7151 15th St S
Fargo, ND 58104
(701) 237-3123
3. Heartview Foundation, Cando, ND
The Heartview Foundation location in Cando provides a continuum of care, including residential drug and alcohol rehabilitation surrounded by a peaceful, wooded environment.
There are only 16 beds, which allows for individualized care and helps recovering residents bond with each other during treatment.
There is also a therapy dog at the Cando facility to help ease the transition into recovery.
Location and contact info:
7448 68th Ave NE
Cando, ND 58324
(701) 968-4056
4. Heritage Recovery Center, Bismarck, ND
Heritage Recovery Center provides long-term residential drug and alcohol rehab programs.
Treatment is individualized but generally consists of a blend of:
relationship building
work skills development
socializing
leisure time
The goal is to help people live a more balanced, productive life.
Location and contact info:
112 N 5th St
Bismarck, ND 58501
(701) 258-3819
5. New Freedom Center, Bismarck, ND
New Freedom Center offers residential and outpatient treatment programs for addiction.
Inpatient treatment is holistic and tailored to the needs of each individual.
Outpatient treatment varies in intensity to allow individuals to slowly transition out of treatment or find a treatment plan that works with their schedule.
Location and contact info:
905 E Interstate Ave
Bismarck, ND 58503
(701) 222-4673
6. Parshall Resource Center, Parshall, ND
Parshall Resource Center, a nonprofit organization, was created to provide recovery opportunities primarily for individuals of the Fort Berthold Indian Reservation as well as for those of the surrounding communities.
Treatment methods at this facility include holistic and strengths-based philosophies.
Parshall Resource Center has 8 beds for residential clients and 6 beds for extended care clients.
Location and contact info:
104 Main St South
Parshall, ND 58770
(701) 862-3962
7. Prairie St. John's, Fargo, ND
Prairie St. John's offers a continuum of care for addiction that includes residential, inpatient, partial hospitalization, and intensive outpatient programs.
The focus of this facility is on helping people who struggle with substance abuse to develop life skills, social skills, and responsibility.
The residential programs prepare individuals for life after treatment through vocational training and community involvement.
Location and contact info:
510 4th St S
Fargo, ND 58103
(701) 476-7200
8. Sacajawea Substance Abuse Counseling, Dickinson, ND
Sacajawea Substance Abuse Counseling uses evidence-based therapies to help those struggling with addiction transition into a life of recovery.
Therapies at this facility include:
motivational enhancement therapy
cognitive behavioral therapy
rational emotive therapy
solution-focused therapies
This facility offers faith-based counseling as well as support to people in sober living programs.
Individuals in dual diagnosis treatment may also receive hormonal energy therapy for their co-occurring mental disorders.
Location and contact info:
112 3rd St W
Dickinson, ND 58601
9. ShareHouse, Fargo, ND
ShareHouse is an organization that provides chemical dependency services with 115 beds for residential treatment, 26 of which are dedicated to their Women's & Children's Program.
ShareHouse also provides outpatient treatment and a partial hospitalization program for those with a substance use disorder and mental illness.
Location and contact info:
4227 9th Ave S
Fargo, ND 58103
(701) 282-6561
Find Addiction Treatment In North Dakota Today
Whether you are looking for addiction treatment for yourself or a loved one, we can help. Our addiction treatment specialists are available to answer any questions you may have and help you get into the right treatment program. Call today to learn more.