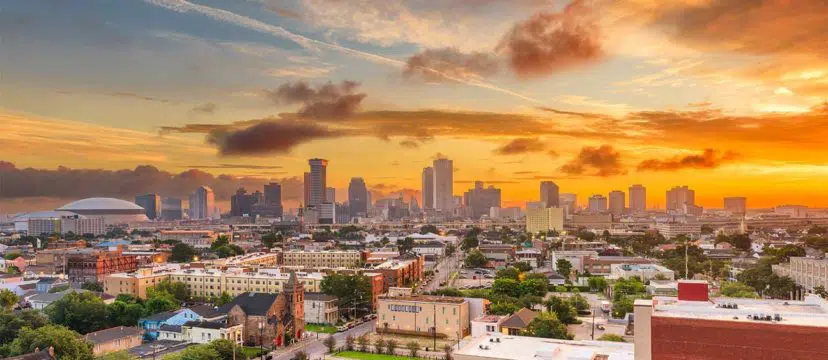 Each of the 10 best rehab centers in Louisiana is unique, from camps for troubled teenage boys to programs that incorporate art, music, and journaling into treatment.
List Of The Best Louisiana Rehab Centers
This list takes into account criteria like staff qualifications, food, and nutrition, overall experience, and treatment effectiveness.
*The facilities on this page have been listed in alphabetical order
1. Acadiana Addiction Center, Lafayette, LA
Acadiana Addiction Center is an alcohol and substance abuse treatment center for adults.
Common addictions treated at this facility include:
alcohol
heroin
meth
opioid
PCP
cocaine
prescription drug addictions
Forms of therapy used include:
psychotherapy
individual therapy
group therapy
family therapy
cognitive behavioral therapy
rational emotive behavioral therapy
reality-based therapy
motivational interviewing
Location and contact info:
156 Choctaw Rd
Sunset, LA 70584
(877) 763-0335
2. Edgefield Recovery Center, Rapides Parish, LA
Edgefield Recovery Center offers inpatient and intensive outpatient treatment programs for addiction.
People who live in the residential facility are continually assessed to keep treatment relevant to their needs.
Treatment plans are created with a combination of individual and group therapy, education, nutrition, exercise, and aftercare planning.
Location and contact info:
10627 US-71
Cheneyville, LA 71325
(888) 372-2673
3. Grace House of New Orleans, New Orleans, LA
Grace House is a long-term residential substance abuse treatment home for women.
Women usually stay at the house for a period of three to twelve months, depending upon the needs of the individual.
In addition to traditional methods of treatment, this program includes:
educational groups
spirituality meetings
parenting classes
life skills training
vocational rehabilitation
work therapy
Location and contact info:
4150 Earhart Blvd
New Orleans, LA 70125
(504) 522-4475
4. New Beginnings Adolescent Recovery Center, Opelousas, LA
This recovery center is unique from other rehabs in that it serves only adolescents.
Situated on a twenty-acre campus, New Beginnings has a staff of psychiatrists, master's level therapists, and behavioral health nurses who know and understand the complexities that often accompany teenagers.
Furthermore, they understand and are sympathetic to how these complexities are exacerbated by substance abuse and are able to treat accordingly.
Location and contact info:
1649 Linwood Loop
Opelousas, LA 70570
(337) 942-1171
5. Palmetto Addiction Recovery Center, Rayville, LA
Palmetto offers residential addiction treatment programs that last between one to three months.
During this time, individuals work to overcome denial, be honest with themselves, change their thoughts and behavior, and learn life skills.
The therapeutic community and trained addiction counselors help support each other through recovery.
Palmetto also has a program for professionals and an intensive outpatient program (IOP).
Location and contact info:
86 Palmetto Rd
Rayville, LA 71269
(318) 728-2970
6. Pecan Haven Addiction Recovery Center, Monroe, LA
Pecan Haven specializes in dual diagnosis treatment through inpatient and intensive outpatient programs (IOP).
Staff is highly trained in the field of addiction treatment and provides individual, group, and family counseling as part of a recovery plan.
Location and contact info:
2321 US-80
Monroe, LA 71203
(844) 600-3344
7. St. Christopher's Addiction Wellness Center, Baton Rouge, LA
This center for alcohol and drug addiction offers a wide range of treatment options for men age 18 and above as well as outpatient and referral services for women.
St. Christopher's Addiction Wellness Center places an emphasis on forming connections with other individuals.
While in treatment, patients can participate in:
primary treatment
long-term treatment
sober living
aftercare
Location and contact info:
150 Cora Dr
Baton Rouge, LA 70815
(225) 387-1611
8. Teen Challenge Adventure Ranch, Sulphur, LA
Situated on 31 acres of land surrounded by the Ozark Mountains, Teen Challenge Adventure Ranch is a program for teenage boys who struggle with substance abuse or addiction.
This facility incorporates a variety of outdoor recreational activities in their counseling and therapy and pairs this with a Christ-centered approach.
Location and contact info:
19778 Boys Home Rd
Morrow, AR 72749
(888) 289-6818
9. Victory Addiction Recovery Center, Lafayette, LA
Drug and alcohol rehabilitation at Victory Addiction Recovery Center may begin with a medical detox program.
Victory's inpatient addiction treatment program provides around-the-clock care with education and various therapies for individuals and groups.
These programs can range in length from two weeks to 45 days.
This facility also offers a 12-week intensive outpatient program with three-night sessions per week.
Location and contact info:
111 Liberty Ave
Lafayette, LA 70508
(888) 991-2237
10. Woodlake Addiction Recovery Center, Ethel, LA
The Woodlake philosophy is that addiction occurs as the result of underlying issues.
The inpatient and intensive outpatient programs at this center work through these issues to heal a person physically, spiritually, and emotionally.
Residential treatment occurs in four phases:
overcoming denial
accepting the self
building a spiritual foundation
growing a recovery network
Location and contact info:
3015 LA-956
Ethel, LA 70730
(225) 924-1910
Learn More About Louisiana Drug Rehab Centers Near You
Our treatment specialists are available 24/7 to help you find the best rehab center for your needs. Call us today to learn more about your options and how to get treatment for yourself or a loved one.