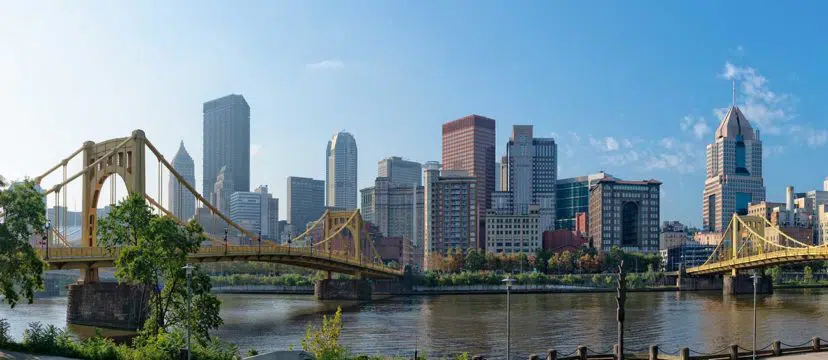 Many addiction treatment facilities in Pennsylvania offer step-down levels of care to ensure a full recovery.
Inpatient addiction treatment removes negative influences so individuals can focus on gaining the skills to prevent relapse.
Outpatient treatment then helps to ease the transition back to normal life.
List Of Pennsylvania Drug Rehab Centers
These 10 best drug rehab centers in Pennsylvania were chosen for their range of services, quality of care, and successful treatment outcomes.
*The facilities on this page have been listed in alphabetical order
1. Geisinger Marworth, Waverly, PA
Geisinger Marworth offers gender-specific inpatient addiction treatment, with special programs for healthcare professionals and uniformed professionals.
Residential treatment includes:
cognitive-behavioral therapy
recreation
sand tray therapy
nutrition education
There are also specialized support groups for relationship issues, trauma, and LGBTQ individuals.
Location and contact info:
12 Lily Lake Rd
Waverly, PA 18471
(800) 442-7722
2. Greenbriar Treatment Center, Pittsburgh, PA
This substance abuse treatment center offers a variety of treatment options, including dual diagnosis programs, partial hospitalization programs, individual counseling, and sober living facilities.
At Greenbriar Treatment Center, their motto is "Restoring Hope… Recovering Lives," and they are small enough to make each individual a priority yet large enough to offer specialized care and treatment.
Location and contact info:
4955 Steubenville Pike
Suite 365
Pittsburgh, PA 15205
(412) 788-6292
3. Just Believe Recovery Center, Carbondale, PA
Addiction treatment at Just Believe Recovery Center often begins with medical detoxification.
After this, individuals may enter residential treatment or the partial hospitalization program (PHP).
These levels of care are based on the 12-steps of recovery and include:
behavioral therapy
individual counseling
substance abuse education
recreation therapy
After completing one of these programs, recovering individuals may step down to the intensive outpatient program (IOP) for a smooth transition back to society.
Location and contact info:
100 Lincoln Ave
Carbondale, PA 18407
(877) 351-7932
4. Keystone Center, Chester, PA
Keystone Center offers separate intensive inpatient programs for young adults (18 to 26) and adults (27 and older).
This allows for treatment that specifically targets issues that individuals may encounter at different life stages.
The 12-step-based residential program includes individualized treatment planning as well as:
cognitive and dialectical behavior therapy
psychodrama
motivational interviewing
Keystone also offers varying levels of outpatient care.
Location and contact info:
2001 Providence Ave
Chester, PA 19013
(800) 558-9600
5. Livengrin, Bensalem, PA
Livengrin provides a continuum of care for addiction treatment, including
residential, partial hospitalization, and outpatient programs.
Residential treatment usually lasts for 28 days and combines:
spiritual counseling
equine therapy
yoga
chiropractic care
Livengrin also has small focus groups on specific issues like self-esteem and trauma.
Location and contact info:
4833 Hulmeville Rd
Bensalem, PA 19020
(215) 638-5200
6. Malvern Institute, Malvern and Willow Grove, PA
Individuals at Malvern Institute often begin in inpatient treatment and transfer to outpatient care as they progress in recovery.
This rehab center believes that the most transformative changes occur during residential treatment, which provides constant monitoring and support.
The inpatient program at Malvern Institute focuses on physical and mental healing and helps residents improve their relationships and realign their careers.
Location and contact info:
240 Fitzwatertown Rd
Willow Grove, PA 19090
(610) 647-0330
7. Pyramid Healthcare, Pittsburgh, PA
Pyramid Healthcare provides treatment for adult and teen alcohol and drug abuse.
While in treatment, clients are able to participate in:
inpatient and outpatient treatment
partial hospitalization programs
sober living homes
Methadone Maintenance Treatment is also available to those looking to overcome their addictions to heroin and other opioids.
Location and contact info:
306 Penn Ave A
Pittsburgh, PA 15221
(888) 694-9996
8. Retreat Premier Addiction Centers, Ephrata, PA
The inpatient treatment program at Retreat Premier Addiction Centers aims to heal all aspects of addiction.
During inpatient treatment, residents may participate in:
a culinary program
recreational therapy
gardening
drama
art
music
equine therapy
This facility also offers a partial hospitalization program and outpatient services.
Location and contact info:
1170 S State St
Ephrata, PA 17522
9. Roxbury, Shippensburg, PA
Roxbury's inpatient drug and alcohol rehab program relies heavily on group therapy and activities.
However, residents may also participate in individual counseling to address their unique needs.
Other treatment methods at this facility include:
yoga
meditation
substance abuse education
family counseling
Treatment may begin with medical detox and may end with outpatient treatment to ease the transition back to everyday life.
Location and contact info:
601 Roxbury Rd
Shippensburg, PA 17257
(800) 648-4673
10. White Deer Run, Bethlehem, PA
This addiction treatment center offers a wide variety of treatment programs to those struggling with addiction.
Treatment programs at this facility include:
detox
outpatient treatment
online treatment services
inpatient residential programs
day treatment
medication-assisted treatment programs
Both adults and adolescents can stay in White Deer Run's halfway houses as they complete their treatment and continue to work toward reintegration into normal life.
Location and contact info:
1620 Riverside Drive
Bethlehem, PA 18016
(833) 288-5808
Find A Pennsylvania Drug Rehab Center Today
Finding a rehab center doesn't have to be stressful. Fortunately, we are here to help. Our addiction treatment specialists can answer any questions you may have and help you get the treatment you need. Call today to learn more.