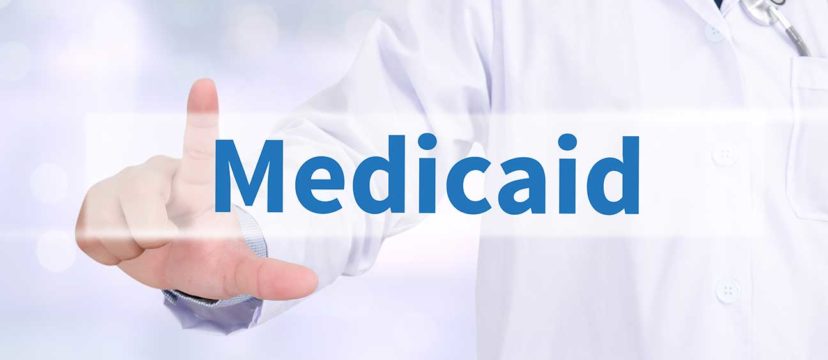 Medicaid Drug And Alcohol Rehab Coverage
Medicaid's health coverage includes substantial benefits for the treatment of behavioral health concerns, including those revolving around drug or alcohol addictions. These treatments may include recovery support, outpatient services, short- or long-term residential, detoxification, and medications used to treat opioid use disorders, among others.
What Is Medicaid?
As of October 2017, 68 million Americans were enrolled in Medicaid. For these individuals and their families, the key to utilizing their benefits, including for the treatment of substance use disorders, is understanding the way their coverage works.
According to the federal Medicaid website:
Medicaid provides health coverage to millions of Americans, including eligible low-income adults, children, pregnant women, elderly adults and people with disabilities. Medicaid is administered by states, according to federal requirements. The program is funded jointly by states and the federal government.
Are you or a loved one suffering from addiction?
Don't wait, get the best treatment options today!
Call Now: (888) 407-2072
List Of Medicaid Programs By State
The following is a list of Medicaid programs by State:
Alabama – Medicaid Agency
Alaska – Medicaid
Arizona – Arizona Health Care Cost Containment System (AHCCCS)
Arkansas – Medicaid
California – Medi-Cal
Colorado – Medicaid
Connecticut – HUSKY Health
Delaware – Delaware Medical Assistance Program (DMAP)
Florida – Florida Medicaid
Georgia – Medical Assistance
Hawaii – Medicaid
Idaho – Idaho Medicaid Program
Illinois – Medical Assistance
Indiana – Medicaid
Iowa – Medical Assistance
Kansas – HealthWave
Kentucky – Medicaid
Louisiana – Medicaid
Maine –  MaineCare
Maryland – Maryland Medicaid Program
Massachusetts – MassHealth
Michigan – Medicaid
Minnesota – Medical Assistance
Mississippi – Medicaid
Missouri MO – HealthNet
Montana – Medicaid
Nebraska – Medicaid
Nevada – Medicaid
New Hampshire – Medicaid
New Jersey – Medicaid
New Mexico – Medicaid
New York  – Medicaid
North Carolina – Medicaid
North Dakota -Medicaid
Ohio – Ohio Medicaid
Oklahoma  – SoonerCare
Oregon – Oregon Health Plan
Pennsylvania – Medical Assistance
Rhode Island – Medicaid
South Carolina – Healthy Connections
South Dakota  – Medicaid
Tennessee – TennCare
Texas – Medicaid
Utah – Medicaid
Vermont – Green Mountain Care
Virginia  -Medical Assistance Program
Washington  -Medicaid State Plan
West Virginia -Mountain Health Choices
Wisconsin – Medicaid
Wyoming  – EqualityCare
Washington, DC – Medical Assistance Administration
The exact nature of an individual's insurance coverage may vary state to state. The journal Health Affairs explains: "The Affordable Care Act requires state Medicaid programs to cover substance use disorder treatment for their Medicaid expansion population but allows states to decide which individual services are reimbursable."
The Medicaid Innovation Accelerator Program offers recommendations to states on program standards and guidelines for the care of substance use disorders. These guidelines follow those set forth by The ASAM Criteria: Treatment Criteria for Addictive Substance-Related, and Co-Occurring Condition (ASAM Criteria).
Get Started On The Road To Recovery.
Get Confidential Help 24/7. Call Today!
(888) 407-2072
Not every state's Medicaid coverage will offer the level of care outlined by these guidelines. Certain services may be covered in one state, whereas in another state they may be covered, but with limits. Within the ASAM Criteria five broad levels to treat SUDs are identified. These include:
early intervention
outpatient services
intensive outpatient services or partial hospitalization
residential or inpatient services
medically managed intensive inpatient services
Covered services may also include medications used within medication-assisted treatments (MAT). For opioid use disorders these may include methadone, naltrexone, and buprenorphine (including buprenorphine and naloxone), while those for alcohol may include acamprosate, disulfiram, and naltrexone. If a medication is not on the Medicaid Preferred Drug Lists (PDLs) prior authorization may be required.
Fortunately, federal law mandates that Medicaid follows the parity requirements set forth by the Mental Health Parity and Addiction Equity Act. This act ensures that insurance benefits, including copays, coinsurance, and out-of-pocket maximums, for the treatment of mental health and substance use disorders are equivalent to those offered for medical and surgical procedures.
Does Medicaid Cover The Cost Of Treatment At An Inpatient Rehab Center?
The benefits and coverage surrounding inpatient treatment are determined by each state's specific Medicaid program. If your state offers this form of treatment, we strongly urge you to consider choosing inpatient services.
Residential inpatient drug rehabilitation programs quite often offer more comprehensive and individualized coverage for drug and alcohol addictions, including the option of on-site detoxification services.
For those struggling with moderate to severe addictions, or a serious relapse, such as those circumstances common to opioid addictions, an inpatient program typically offers more supportive care.
Living on site at the treatment facility provides treatment participants with a greater opportunity for healing. This is because individuals have more in-depth access to treatment specialists and potentially life-changing treatment methods. Beyond this, a residential setting insulates treatment participates more fully from the harmful outside triggers for relapse which could be present within outpatient services.
Inpatient drug rehab program lengths vary and run from 28 to 30 days to those which extend a year or longer. Any length of treatment is better than none, but the National Institute on Drug Abuse asserts that the majority of persons witness the most optimal outcomes with longer treatment programs. They write that most require three months, at minimum, for the greatest measure of success.
If your Medicaid coverage does include inpatient treatment, either short- or long-term, you'll want to take the time to determine how extensive these services are. Benefits may only extend to a set amount of days per program or they may only cover a predetermined financial amount, either on a daily basis or per program.
Does Medicaid Cover The Cost of Outpatient Substance Abuse Treatment?
Outpatient treatment is often covered within Medicaid health coverage benefits. These services can help an individual step down from an inpatient program by helping them to smoothly transition from the structured setting of residential treatment to the demands of daily life.
Outpatient programs are also useful for those who desire to brush up on important recovery principles or for individuals experiencing a minor relapse back to drugs or alcohol. Outpatient programs allow a person to live at home, an option that, while flexible, may expose a person to the strain and temptation of triggering persons, places, and events, a fact which you should consider before deciding between outpatient and inpatient care.
Does Medicaid Cover the Cost of Suboxone?
According Substance Abuse and Mental Health Services Administration (SAMHSA), 50 Medicaid programs include combination medications of buprenorphine and naloxone on their preferred drug lists. Suboxone is one such medication that is frequently used within medication-assisted treatment. In many cases, buprenorphine-based medications require a prior authorization.
"Prior authorization typically means that the Medicaid agency or the contracted managed care organization will not pay for Medicaid beneficiaries' medication unless the provider has obtained permission before prescribing the drug," as detailed by Medicaid.
In order for this permission to be granted, certain information must be provided. According to SAMHSA, this "may include documentation of the patient's opioid addiction, drug screening tests, supplemental behavioral therapy, tapering plans, or a specific plan for following up with the patient (e.g., frequency of office visits)."
In order to determine the proper procedure for obtaining these medications, in addition to learning about any restrictions on prescribing practices, you should contact your state Medicaid agency for more specific details or let us help.
Does Medicaid Cover the Cost of Methadone Maintenance?
Research shows that individuals who live in a state offering Medicaid coverage for methadone maintenance have significantly higher rates of involvement in opioid agonist therapy (OAT) programs.
Methadone is an opioid agonist, which, when used as a maintenance medication, can help an individual reduce or quit the abuse of heroin or prescription opioid painkillers. Methadone is an effective medication for these purposes due to the way it reduces cravings and manages symptoms of withdrawal. Like buprenorphine, methadone is best used within MAT.
Methadone must be administered by a physician and only through opioid treatment programs (OTP) which have been certified by SAMHSA. Like other forms of treatment, your specific coverage for Methadone maintenance will vary accordingly to your state's Medicaid guidelines.
If you'd like help finding an OTP which accepts your state's Medicaid coverage let our trained treatment specialists help you design a treatment program.
Find A Rehab Center That Accepts Medicaid Today
The most effective treatment programs blend a variety of treatment methods, including medications, behavioral therapies, family therapy and support, and holistic treatments.
Using your Medicaid coverage can help to broaden your access to these and other life-changing treatment options. If your Medicaid benefits don't cover the entirety of your care, we can also help you to investigate other payment options, including sliding fee scales and scholarships and grants.
If you have an adolescent or teen who requires substance abuse treatment, you may also want to examine the Children's Health Insurance Program (CHIP). Certain CHIP benefits may cover treatment of SUDs for individuals of these ages.
Regardless of your age or level of need, utilizing your Medicaid health coverage may help you to obtain what could be life-saving care for the treatment of a drug or alcohol addiction.